Are you planning a Puglia Road trip? Italy's southern location is perfect for a great experience on the road. The fantastic landscape changes a lot, making a holiday to Puglia ideal for every kind of traveller.
We created the perfect itinerary through Puglia by car, exploring fantastic destinations such as Alberobello, Polignano a Mare and Gallipoli, well-known among travellers. Also, you will experience some hidden gems, like Ostuni, Brindisi, Locorotondo and Monopoli.
A road trip to Puglia will show you the best of the countryside and the best beaches in Italy all at once. So, if you are ready to hit the road, let's explore Puglia together through this amazing trip.
– Things to know before visiting Puglia
Puglia is wonderful, don't be afraid to get lost; you will find some hidden gems.
The best way to enjoy the road trip is to stay in a local Masseria (country house).
In Italy, you drive on the right side.
Be careful where you park or drive into, as most of the cities have ZTL (Zona a Traffico Limitato // Limited traffic areas). If you are getting into an old town, watch out, as you might incur a fine. ZTL is well signalled.
Puglia is fantastic on the seaside but even more inland.
Food is something that will attract you to the countryside.
Some of the best beaches are on the East Coast and in the South.
Matera is not part of Puglia but is often mistaken.
---
Where is Puglia
In recent years Puglia is getting popular among travellers and has finally been recognised on the map as one of the best destinations in Italy.
Puglia is a region located in the southern part of Italy, also known as the heel of Italy's boot-shaped peninsula. On the east side, it is washed by the Adriatic and Ionian Seas. It is a peninsula offering some of Italy's best beaches, boasting a stunning coastline, picturesque towns, and delicious food.
---
This post may contain affiliate links or Sponsored Links (read our Cookie Policy), and useful experiences that we love to suggest to you. If you click one of them, we may receive a small commission (for which we are really grateful) at no extra cost to you. Click on it will help us run this website for you, for FREE, funding our project and continuing to travel, informing curious explorers.
Like our blog? Support us on the Social Media
This post may contain affiliate links or Sponsored Links (read our Cookie Policy), and useful experiences that we love to suggest to you. If you click one of them, we may receive a small commission (for which we are really grateful) at no extra cost to you. Click on it will help us run this website for you, for FREE, funding our project and continuing to travel, informing curious explorers.
How to get around Puglia
The easiest way to get around Puglia is by renting a car. It is easy to book your car in advance and avoid surprises. We recommend two companies which always assure the best service on all our road trips. Check the rates with RENTAL CARS and DISCOVER CARS.
This road trip guide to Puglia is organised to give you the best way to optimise time and resources. You can rent a car at Bari airport or Brindisi airport, which is your arrival destination; either way, you decide to work out this trip.
Travelling in Puglia by public transport
Travelling through Puglia by train and bus is possible; however, compared to elsewhere in Italy, public transport can be a little limited and challenge you to manage time and connections.
Going on a day trip in Puglia or renting your own car might give you more freedom, but the vibes of relying on different modes of transport and waiting at remote train stations is a nice feeling after all. However, we still feel that travelling by car through Puglia might let you discover more hidden gems and get into the skin of a beautiful part of Italy.
Must-see attractions in Puglia, Italy
Best cities to visit in Puglia
Bari | The capital city of Puglia is a bustling port town with a beautiful historic centre, stunning seafront promenade, and lively nightlife. READ MORE ABOUT BARI!
Lecce | Known as the "Florence of the South," is a Baroque masterpiece with ornate facades, intricate carvings, and stunning churches.
Alberobello | Famous for its unique trulli houses, Alberobello is one of the most visited cities in Puglia. EXPLORE ALBEROBELLO WITH OUR LOCAL GUIDE.
Ostuni | Perched high on a hill, Ostuni is a stunning whitewashed city with narrow alleys, charming restaurants, and breathtaking views. READ THINGS TO DO IN OSTUNI & IS OSTUNI WORTH VISITING?
Martina Franca | A charming town with a lively cultural scene, Martina Franca is known for its baroque architecture, stunning palaces, and live music festivals. READ OUR GUIDE TO MARTINA FRANCA.
Polignano a Mare | A cliffside town perched on the edge of the Adriatic Sea, Polignano a Mare is known for its stunning beaches, crystal-clear waters, and delicious seafood. DISCOVER POLIGNANO, A MARE, WITH OUR IN-DEPTH GUIDE.
Gallipoli | A historic coastal town with an impressive fortress, Gallipoli is also known for its stunning beaches, lively nightlife, and delicious seafood restaurants. EXPLORE THE BEST BEACHES IN PUGLIA.
Otranto | A charming seaside town with a beautiful historic centre, Otranto is home to a stunning cathedral, a mediaeval castle, and some of the best beaches in Puglia.
Monopoli | A charming fishing town with a picturesque harbour, Monopoli is known for its beautiful beaches, stunning baroque architecture, and delicious seafood. IMMERSE YOURSELF IN THE BEAUTY OF MONOPOLI WITH OUR GUIDE.
Trani | A historic port town with a beautiful cathedral and stunning sea views, Trani is also known for its picturesque harbour, charming restaurants, and lively cultural scene.
These are just a few of the many beautiful cities to explore in Puglia, each with its own unique charm and character.
---
Puglia Road Trip Essentials
Here are 10 essential things to have for a road trip in Puglia:
GPS or a good map of the region | Puglia has a lot of narrow streets and winding roads, so it's important to have navigation to help you get around.
A reliable car | Choose a car that is comfortable, reliable, and has good fuel efficiency. Stick shift (manual) transmission cars are common in Italy, so make sure you are comfortable driving one if you plan to rent a car.

Compare car prices here.

Sunscreen and sunglasses | Puglia gets a lot of sun, so protecting your skin and eyes from UV rays is essential.
Your camera | Puglia is a beautiful region, so make sure to capture your road trip memories with a camera.
Comfortable walking shoes | You'll want to explore the charming towns and villages on foot, so bring comfortable shoes.
Reusable Water bottle | Staying hydrated is important, especially if you travel to Puglia in the summer.
Snacks and drinks | The best trips we have done involve having a lot of snacks. Jokes apart, some snacks and drinks keep you energised and hydrated during long drives.
Cash | Many small towns in Puglia may not accept credit cards, so it's a good idea to have some cash on hand. But only cash out a little; having a lot of money with you is not suggested, either.
Read a lot of guides | We offer some of the

best guides about Puglia

. You can check each proposed location's history, culture, and attractions HERE.
Travel insurance | Consider purchasing travel insurance to protect yourself and your belongings in case of accidents or emergencies on your road trip. We suggest HeyMondo and Safety Wings as travel insurance.
---
How much cost a road trip in Puglia
The cost of a road trip in Puglia can vary depending on several factors, such as the duration of the trip, the type of accommodation, the mode of transportation, and the activities you choose to do. Here's a breakdown of the approximate costs for a road trip in Puglia for different durations:
The average cost for a one-week road trip in Puglia can range from $700 to $1,200 per person. This includes accommodation in budget-friendly hotels or apartments, transportation costs, food expenses, and entrance fees to attractions. For more information check our guide on how to spend one week in Puglia.
For a 10-day road trip in Puglia, the average cost can range from $1,000 to $1,800 per person. This includes mid-range accommodations, rental car expenses, restaurant meals, and guided tours or activities.
For a 15-day road trip in Puglia, the average cost can range from $1,500 to $2,500 per person. This includes more upscale accommodations, transportation expenses, meals at higher-end restaurants, and more extensive guided tours and activities.
Overall, the cost of a road trip in Puglia can be affordable or luxurious, depending on your budget and preferences. Therefore, it's essential to plan ahead and budget accordingly to ensure you can fully enjoy all this beautiful region offers.
Safety while road-tripping in Puglia
Planning a trip to Puglia, Italy? Keep safety in mind for a smooth and pleasant experience. Follow these guidelines:
Road Safety: Exploring Puglia's breathtaking scenery through a road trip is a great idea. Nonetheless, following traffic regulations, driving reasonably, and wearing seat belts for a secure journey are crucial. Get to know the local driving rules and road signs to feel confident while driving.
Personal Security: Although Puglia is generally safe, remaining cautious and protecting your belongings is wise. Keep your valuables secured, especially in busy areas, and be aware of your surroundings, particularly in tourist hotspots.
Travel Insurance: We always suggest purchasing travel insurance that covers potential costs for unforeseen circumstances. A comprehensive policy can provide financial protection in case of trip interruptions, medical emergencies, or lost luggage.
For a worry-free road trip in Puglia, follow these safety tips and plan ahead. Then, enjoy the beauty without any concerns.
How long do I need for a Puglia road trip?
For this Puglia road trip, we suggest 10 days. Overall, when we plan an itinerary, it is never less than a week. Otherwise, you just rush from place to place without thoroughly enjoying the trip. You can probably cut this trip to one week and even 5 days but never stay in a place for more than a night. Also, consider stretching this itinerary to make it longer, staying in the countryside and driving when necessary to reach your next location.
In our opinion, Puglia is a slow region, and you need to savour its essence in small pieces. Think about spending a full day on the beach or in a fancy beach club. The day after, you might drive for hours, but stop occasionally to enjoy the local food, chat with locals, or take photos of the sunset over the Adriatic.
The best way to really experience Puglia is to fully embrace the slow and laid-back southern Italian way of life. If you make your Puglia Road trip slower, it is for the better, and you will get great memories back home like we do.
Puglia Road Trip route
Our 10 days Puglia Road trip was studied to avoid unnecessary trips and instead take advantage of the two airports of Puglia. In fact, Brindisi airport is less-known but serves the region as a getaway to Salento, the side of the beaches.
So instead of flying into Bari, you are up north. If you plan to get to the beach later on the trip, start your journey in Bari and do the opposite. You can also personalise this trip, making Brindisi or Bari your starting and ending point, avoiding the fees of dropping off the car at a different location than the pick-up.
This Puglia Road Trip starts in Brindisi, making its way south, enjoying the architectural jewel of Lecce and the less popular Otranto.
After the two cities, you will see the beaches of Gallipoli, and stretch the itinerary to explore Torre dell'Orso and Santa Maria di Leuca, often referred to as the Maldive del Salento.
The second part of the trip takes you inland through the Valle D'Itria. This folkloristic area of Puglia is well known for the fine production of wine, olive oil and typical products, one for all the Burrata. In Valle d'Itria, you will discover Ostuni, Martina Franca, Alberobello and Locorotondo. We have a guide for each of them; click here to check them all!
The last part of Puglia is dedicated to the East Side, exploring Polignano a Mare and Monopoli. This last seaside city is, in our opinion, often underestimated because Polignano overshadows it. The last destination on your road trip to Puglia will be Bari, the region's capital.
You can stretch this itinerary including Castellana Grotte, Matera (which, by the way, is in Basilicata, but a short distance from Valle d'Itria), Trani (unknown but spectacular), and if visiting Puglia in summer, consider going to Gargano for the beaches.
Puglia road trip map
Our itinerary | Puglia road trip
Day 1 | Arrival at Brindisi Airport
We arrived at Brindisi airport early in the morning, flying from London Stansted on a very cheap flight with Ryanair (Check Prices Here). The airport is easily connected to the city, but renting a car at the arrival gate can reduce the costs. Check rental prices here.
Even though Brindisi is a pleasant seaside town, we suggest staying here for just one day. The city centre is walkable, with plenty of shops and restaurants. Visiting Puglia in the summer, you will see many events taking place in Brindisi. It happened that on the day of our arrival, there was a concert in the main square, and on the side roads stands for food and drinks.
Take it slow on your first day, and prepare the route for the day after. We still need to write a complete guide on what to do in Brindisi, but check this space for future updates.
Overall, Puglia is one of the most affordable places in Europe for road trips. The prices for renting a car are cheap compared to other well-known destinations. We book our cars through two companies: Rental Cars and Discover Cars. Both services offer the opportunity to check the cheapest prices on the market and select our needs accurately to give the best options available. It's best to search via both Discover Cars and Rental Cars to find the best prices and availability for your own travel dates and lock a car in sooner rather than later.
Where to stay in Brindisi
You might know that during our one week in Puglia, we started our road trip from Brindisi. We stayed in a cosy and quiet B&B located in a noiseless area, easy to reach from the airport and nearby the city centre.
Everything that we needed for our day in Brindisi. This shared apartment will be ideal if you are looking for a moderate place where to stay in Puglia. Are you planning a trip towards Ostuni and Lecce? This apartment is located at a strategic point as it's connected to the highway towards these locations.
Comfortable and located within walking distance of the historic city centre and the port, this entire apartment can be another option if you are looking for places to stay in Brindisi. Cosy and fully equipped, Casa Rebecca can be another alternative place to stay in Puglia! Here you can check the dates and book your stay in Puglia.
Day 2 | Drive from Brindisi to Lecce
On the very first day of the Puglia itinerary, you will drive from Brindisi to Lecce. There are two ways to get to the "Florence of South"; one is the easiest and quickest, taking just about 30 minutes for 39 Km (24 miles) on the SS613. The landscape is unique, with greenery and fabulous "Cascine" rural houses. Oldo, we love the second option, driving on the coastline; you will enjoy a unique landscape over the Mediterranean.
If you want to enjoy your road trip through Puglia, take the second option, as it has more possibilities to stop by and enjoy little villages. If visiting Puglia in summer, it is mandatory to get the second option, as you can easily stop at Torre San Gennaro or Torre Chianca to enjoy some of the best beaches in Puglia.
When you Arrive in Lecce, you must explore around. The drive is not tiring, so you have no excuses. The city is famous for its unique baroque architecture. We have highlighted some of the best places to visit in Lecce below. Lecce is perfect as a base for a few days, and you should consider spending day 2 and day 3 in town, exploring the surrounding area. One of the most popular day trips from Lecce is Otranto.
5 Things to Do in Lecce
Lecce is often referred to as the Florence of Southern Italy, for its architectural beauty. However, the Puglian city differs a lot from one of the most populous cities in Italy.
Admiring the Barocco Leccese wandering around the old town
Discover the Roman Amphitheatre
Step into the Basilica di Santa Croce
Indulge in local cuisine.
Visit the Piazza del Duomo
Day 3 | Stay in Lecce and explore Otranto
Third day on the road in Southern Italy. You can reach Otranto in 35 minutes on the SS16 Adriatica. This is a fantastic opportunity to discover a cute town on the sea. Otranto is very photogenic, with the castle directly on the sea. Spend half a day in Otranto, exploring the fish market by the harbour. On your way back to Lecce in the afternoon, we suggest stopping at San Foca and/or Torre dell'Orso.
In Torre dell' Orso, you must wait for the sunset, one of the most beautiful landscapes in Puglia. Then, walk on the cliffs, and sit tight overlooking "Le Due Sorelle rocks". Alternatively, you can spend the afternoon at Grotta della Poesia, a few kilometres away. This natural sea sinkhole is very popular among travellers visiting Puglia, and summer gets crowded.
Things to do in Otranto
While you don't expect such a hidden gem in Italy, Otranto can keep you entertained for hours. Otranto is a pretty town, and the port is the central sightseeing spot. The historic city centre is iconic, like many other villages on the east coast of Puglia.
In addition, the city boasts a small beach, which is lovely if you decide to slow down on your Puglia Road trip and spend a few days off the beaten path.
Things to do in Otranto:
Stroll around the old town.
Visit the Cathedral – The Basilica of Santa Maria Annunziata
Explore the city walls and discover the secrets of Otranto Castle.
Get into the Salentino-Byzantine architecture in the San Pietro Church.
Day 4 | Drive from Lecce to Gallipoli, enjoy the best beaches in Puglia
You are rolling toward the South, traversing some of the best landscapes in Puglia to discover the fantastic beaches.
The drive from Lecce to Gallipoli is pretty straightforward. You will pass by many different landscapes, and we suggest getting on the SS101, which is the shortest way to reach Gallipoli from Lecce. The drive is approximately 30 minutes for 40 kilometres. Mind that the maximum speed on a SS (Which stands for Strada Statale) is 90 Km/h, approximately 56 miles per hour.
However, the shortest way might leave you without some of the best landscape views of Puglia. Taking the longest way, passing by Maglie and cutting to the South to reach the further point of the region, you should stop by Santa Maria di Leuca.
The natural landscape is unbelievable and seen by many as the best beaches in Italy. Santa Maria di Leuca is also the place where the Ionian Sea meets the Adriatic, creating unique shades of blue. Also, check out our guide to the best beaches in Puglia.
Day 5 | Enjoy Gallipoli and surroundings
You are in Gallipoli, one of the best places for nightlife in Italy in summer. However, visiting Gallipoli off-season, you will see a completely different city than checking it in summer. Gallipoli's old town is beautiful, like many others in Puglia, and ideal for a few days of relaxation with strolls by the sea sipping local wine and eating fresh seafood.
Besides the beaches, there are many things to do in Gallipoli:
Step into the Cathedral of Sant'Agata
Have a lazy day on Spiaggia della Purità.
Visit the Angioino Castle of Gallipoli
Day 6 | From Gallipoli to Martina Franca
We suggest you move from Gallipoli to Martina Franca on day six and spend time within Valle d'Itria. This is our favourite part of Puglia, but you can either spend more days in Gallipoli if you like the sea more than traditional food and towns.
In our opinion, Martina Franca is the perfect base to explore the Puglia valleys. The town on top of the hills overlooks the fantastic landscape of Valle d'Itria and is a short distance from iconic places such as Alberobello and Locorotondo. Martina Franca might not be famous like the other places, but it is definitely underrated.
We spent quite a lot of time travelling to nearby little towns just using public transport. The town is lively at night, with many bars and restaurants open until late. Also, price-wise, Martina Franca is very affordable, with traditional accommodations and a slow, peaceful lifestyle.
Stay in a Trullo house in Martina Franca | Authentic Experiences in Puglia
Staying in a traditional Trullo house in Martina Franca was one of the highlights of our entire Puglia itinerary. We discovered the feels of living simple, in the best minimalist way. After all, exploring this part of Puglia means to disconnect entirely with the buzzing world. Especially if you, like us, are coming from a bustling city like London.
Day 7 | Explore Alberobello and Locorotondo
We introduced you to how easy it is to leave the car for a few days. We get that on a road trip, sometimes you are tired, even though the location is fantastic. We placed Martina Franca in the middle of this trip because it is near two iconic locations. You can spend a day exploring Alberobello and Locorotondo just by taking the train from Martina Franca. The trains here are reliable, as there are a lot of tourists on the track, mostly coming from Bari for a day trip.
The three towns are about 10 Km from each other, leaving you the possibility of having a slow-paced day in Puglia. However, if you still want to take the car to explore the Puglia countryside and white villages, we suggest including Cisternino, a little unknown and a bit further away, but definitely worth the effort.
Well, on day 7, you will explore Alberobello, home of the traditional trulli. The cone-shaped houses are the most tourist place in Puglia, and we suggest you arrive early in the morning to skip the crowds of tours and buses. If you want a slow-paced trip without hassles to organise transportation, check out this fantastic tour of Alberobello.
Locorotondo is our second stop of the day, just a 15-minute train ride from Alberobello. You can visit the town in the afternoon, as it is less crowded and the lights of the sunset make it prettier. The picturesque town is unique, and you will walk around the white cobblestone roads admiring the balconies, architecture and stunning perspectives. Check out our guide to Locorotondo.
Best tours to Alberobello and Locorotondo
Day 8 | Drive from Martina Franca to Ostuni
It's time to leave Martina Franca to reach Ostuni. The white city on top of the hills of Puglia is the second largest attractor to the region. We love Ostuni and its picturesque corners. The gorgeous whitewashed city is seen by many as the door to the Salento Region, the dreamy seaside towns of Southern and Eastern Puglia.
The town is on a steep hill, so wear comfy shoes and carry just the necessary for the night. We have seen people struggling with wheeled luggage and backpacks.
If you are following our road trip to Puglia itinerary, you will stay overnight in Ostuni and enjoy the bars and restaurants open until late. However, if you are willing to personalise this trip a bit, you can choose to stay in Ostuni a little longer and enjoy some of the best beaches nearby.
As Ostuni is growing in popularity, in fact, is one of the most read blog posts here, you should book in advance if visiting Puglia in summer. Remember to read our guide to Ostuni.
Brief best things to do in Ostuni:
Get lost in the maze of the old town.
Snap a few photos at the door of Salento.
Visit the impressive 15th Century Gothic Cathedral.
Spend a lazy day on a beach near Ostuni
Sip an aperitief in Piazza San Francesco
Where to stay in Ostuni
Day 9 | From Ostuni to Polignano a Mare
Your trip to Puglia is not over yet. The best part is yet to come. On day 9, you will drive to the Adriatic side of Puglia, discovering one of the best cities with dramatic landscapes. Polignano a Mare is a famous beach carved through the cliffside hanging houses.
We suggest spending a whole day in Polignano a mare as it is fantastic, and not only perfect for a relaxing beach day. Well, we loved Polignano beside the beach, because it is a beautiful picture, but very painful to swim and reach the sea.
Spend a day strolling around the little town, take advantage of the viewpoints, eat gelato and enjoy your last day in Puglia. We wrote a complete guide on the best things to do in Polignano a Mare. Read it here.
If you want to spend more time exploring the surrounding area, consider Monopoli. In our opinion, the city, 15 minutes away from Polignano a Mare, is a better location for beach lovers. We loved Monopoli more than Polignano; you can see our complete guide here. Also, consider staying in Monopoli if you have a thigh budget, as Polignano is definitely more expensive.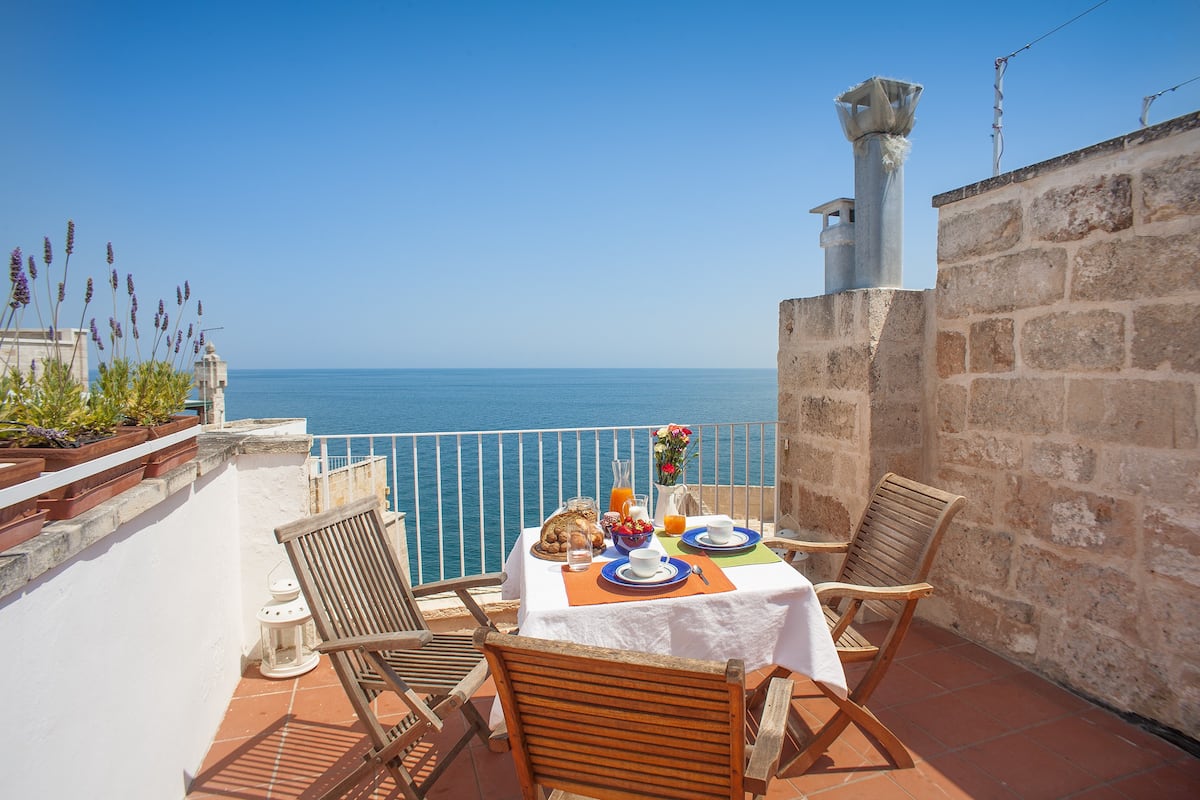 Where to stay in Polignano a Mare
Apartment with a view in Polignano a Mare
Terrazza Sul Mare is a sea-view holiday home which is located in the middle of the historical city centre, nearby the famous sea-view balcony. Here, you will have your personal Terrazza to enjoy the beautiful landscape. Check here the availability and book in advance as this place is always full, especially in the summertime.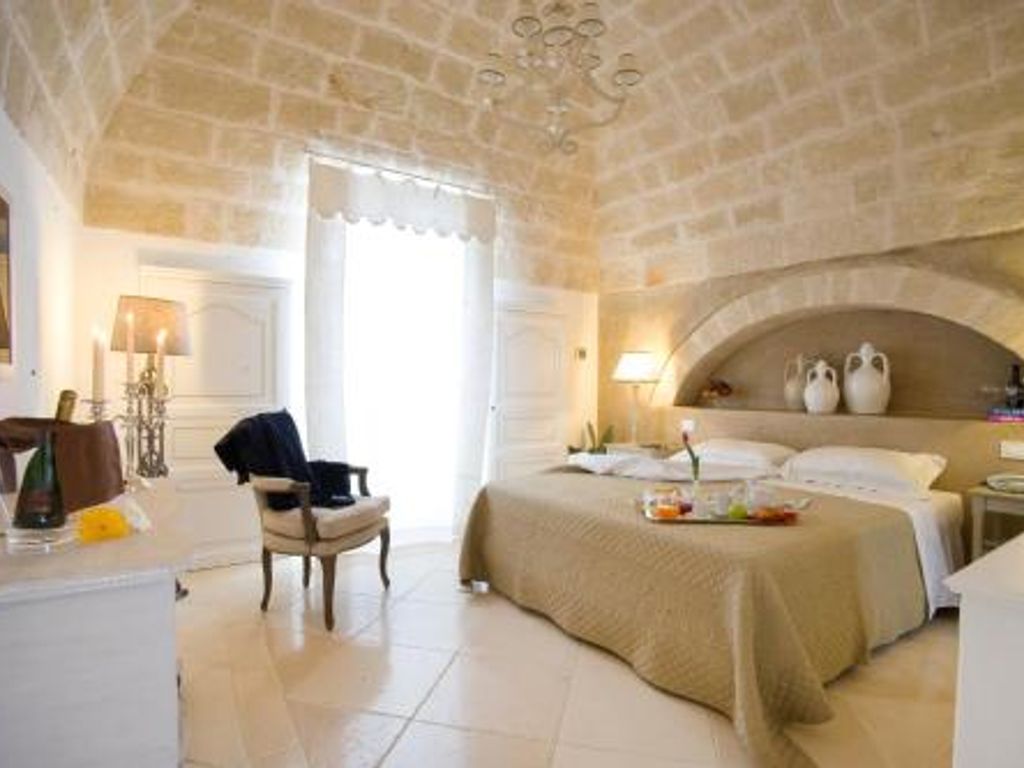 Where to stay in Monopoli
If you want a more authentic Puglian experience, we suggest you skip staying in Polignano and get just 10 minutes further in Monopoli. Often off the beaten path, Monopoli is worth visiting, and why not spend a night there. Definitely cheaper compared to Polignano a Mare and more authentic with still whitewashed houses, lovely city walls to watch the sunset and a picturesque harbour.
TIPS | For cheaper accommodation in Monopoli, check La Cattedrale here.
Day 10 | Explore Bari
This is your last day in Puglia, and it is worth discovering Bari. If you want to skip accommodations in Polignano a mare, Bari is perfect for finding on a budget. You can even drop off your car a few days earlier, as Bari is well connected to Polignano a Mare and Monopoli by train. Actually, you might take a long drive from Bari to the two coastal towns than taking the train.
Bari is the region's capital and is becoming more popular among travellers, not anymore as a location to pass by and more as the destination. In fact, we believe that Bari is perfect for exploring Puglia's north and central without renting a car. Check our guide to the best day trips from Bari.
Like every big city, Bari is chaotic compared to the towns you have explored before. The city is fantastic, though, boosting a lively promenade and very cheap prices in terms of accommodations, food and activities.
These are some of the best things to do in Bari:
READ ALSO | What to do in Bari, Puglia
Puglia Road Trip Checklist | What to pack and essentials
1. Vehicle Preparation:
Check the car's oil, tire pressure, and brakes before the trip.
Ensure you have a spare tire and necessary tools for emergencies.
Offline Map on your mobile.
2. Travel Documents:
Carry a valid driver's licence, vehicle and insurance papers.
Keep your passport handy
Make copies of important documents
3. Safety and Emergency:
Pack a first aid kit with basic medical supplies.
Include emergency contact numbers and local authorities information. (113 is the Police number in Italy, 115 for Ambulance emergencies)
Carry a roadside emergency kit, including a flashlight and jumper cables.
4. Packing Essentials:
Bring clothes accordingly with the activities
Pack sunscreen, sunglasses, and a hat for sun protection.
5. Entertainment and Comfort:
Bring a playlist of your favourite road trip songs or podcasts.
Pack travel pillows, blankets, and travel games.
Consider a portable Wi-Fi hotspot for staying connected on the go. Or get an e-sim card for a reasonable price.
6. Accommodation and Reservations:
Make advance hotel or accommodation bookings along your planned route.
Check for any required reservations for attractions or activities.
7. Travel Insurance:
Ensure the insurance covers medical emergencies, trip interruptions, and car rental coverage.
Review the policy terms and conditions before your trip. Check Now.
By following this comprehensive checklist, you'll be well-prepared for a memorable and hassle-free road trip through the picturesque region of Puglia, Italy. Enjoy the stunning landscapes, cultural treasures, and culinary delights that await you along the way.
Q&A Puglia Road Trip
Which are the most popular Puglia cities to visit?
What are the must-see places in Puglia?
Must-see places in Puglia include the trulli houses in Alberobello, the historic centre of Lecce, the Castel del Monte, the white city of Ostuni, Bari's Cathedral, and Lama Monachile beach in Polignano a Mare.
What are the most beautiful things to do in Puglia?
The most beautiful things to do in Puglia are to explore the beautiful beaches and crystal-clear waters, taste the delicious local cuisine, admire the traditional architecture, and visit the charming small towns and villages.
Top 10 places to visit in Puglia
The top 10 places to visit in Puglia are Lecce, Alberobello, Ostuni, Polignano a Mare, Bari, Monopoli, Matera (Which is nearby Puglia but not part of the region), Gargano National Park, Castellana Grotte, and Otranto.
What is the best time of year to visit Puglia?
The best time of year to visit Puglia is during the shoulder seasons of May-June, and September-October when the weather is pleasant and the crowds are smaller. However, the peak season of July-August can be hot and crowded.
Do I need a car to explore Puglia?
Yes, a car is the best way to explore Puglia, as many of the best sights are located in small towns and villages that are not easily accessible by public transportation. However, you having the right amount of time might make a Puglia Road trip feasible by public transport too.
What is the local cuisine in Puglia?
You will love Puglia's local cuisine. The fresh products vary from seafood to vegetables and olive oil. Puglia produces some of the finest olive oil and wine in Europe. The most famous pasta dish in Puglia is the Orecchiette with cime di rapa, but also famous for cheese for the Burrata and many other traditional products.
Are there any beaches in Puglia?
Yes, Puglia has some of the most beautiful beaches in Italy, including Punta Prosciutto, Santa Maria di Leuca, Le Maldive del Salento, Baia dei Turchi, Torre dell'Orso, and Porto Cesareo.