You might have understood that we love Puglia and every single corner of this gorgeous region. After exploring the best places to visit in Puglia, now it's time to discover all the top places where to stay in Puglia, Italy.
We will help you to pick the right accommodation in Puglia choosing between a trendy and cosy hotel and a local Airbnb. We are Airbnb lovers, but not always. Depending on the location, we pick the right accommodation for us. Like we did in Berlin. We stayed in a Hostel and we actually loved it.
This time, while spending a week around Puglia, we decided to combine both Airbnb and hotels. Our main reason was that we were looking for a cheaper but great place where to stay in Puglia, Italy. Below you will find our suggestions to better enjoy your staycation in Puglia.
Best accommodation in Puglia
When it comes to finding the right accommodation, we are always looking for a budget place where to stay, however, we also look at the location.
We divided the places where to stay in Puglia into two, Airbnb and Hotels. Depending on who you are travelling with and what kind of budget you have, below you will find the right place to stay in Puglia!
How long you spend in a place also influences your decisions. In fact, for a shorter stay, we privilege accommodations near the city centre or the main station. This is because you will be nearby the main landmarks, or at a shorter distance from the airport.
For a longer stay, you might find accommodations that will enhance some features, like pools, restaurants, and attractions nearby.
This post may contain affiliate links or Sponsored Links (read our Cookie Policy), useful experiences that we love to suggest to you. If you click one of them, we may receive a small commission (for which we are really grateful) at no extra cost to you. Click on it will help us run this website for you, for FREE, funding our project, continuing to travel informing curious explorers.
Like our blog? Support us on the Social Media
This post may contain affiliate links or Sponsored Links (read our Cookie Policy), and useful experiences that we love to suggest to you. If you click one of them, we may receive a small commission (for which we are really grateful) at no extra cost to you. Click on it will help us run this website for you, for FREE, funding our project, and continuing to travel informing curious explorers.
Where to stay in Puglia, Italy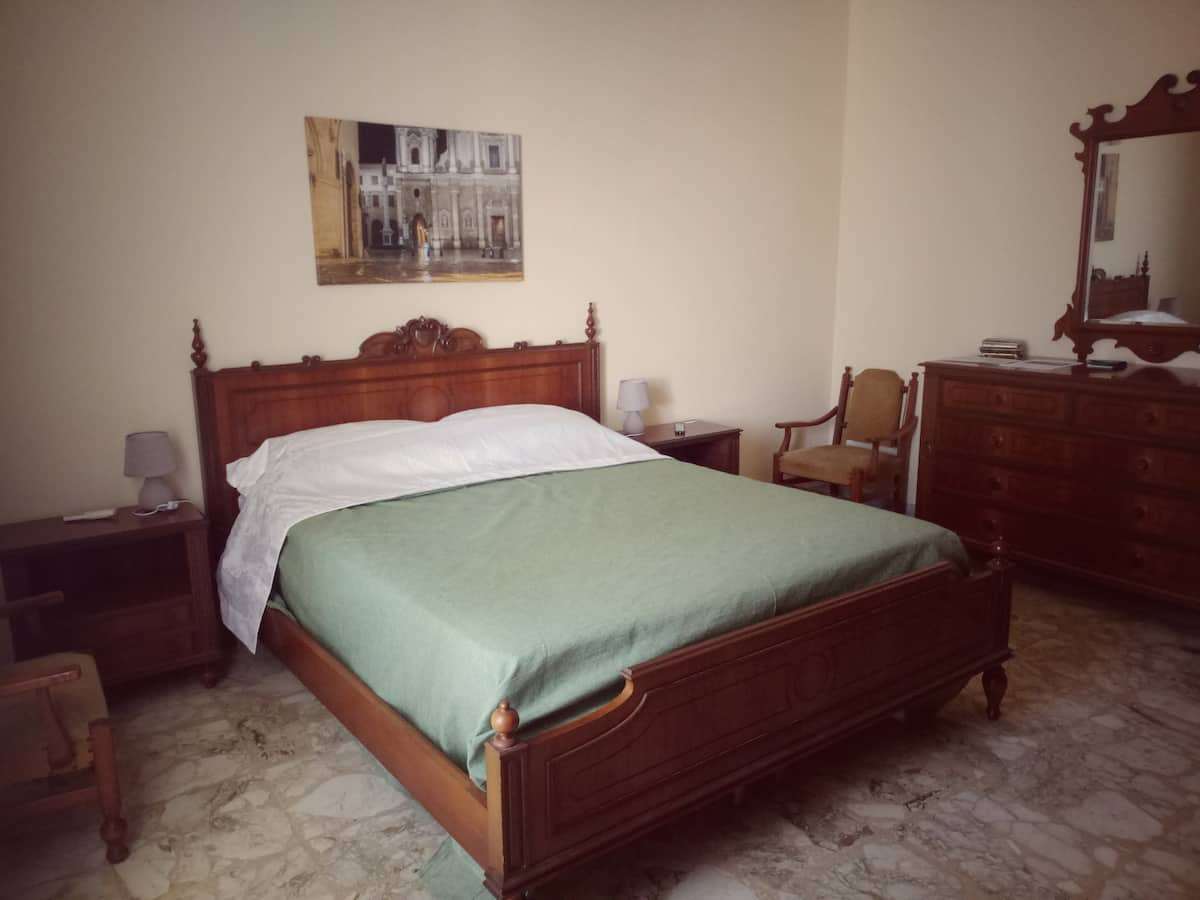 Best Airbnbs to stay in Puglia, Italy
Dionisio B&B in Brindisi
You might know that during our one week in Puglia, we started our road trip from Brindisi. We stayed in a cosy and quiet B&B located in a noiseless area, easy to reach from the airport and nearby the city centre.
Everything that we needed for our day in Brindisi. This shared apartment will be ideal if you are looking for a moderate place where to stay in Puglia. Are you planning a trip towards Ostuni and Lecce? This apartment is located at a strategic point as it's connected with the highway towards these locations. Check here the availability of this B&B in Brindisi.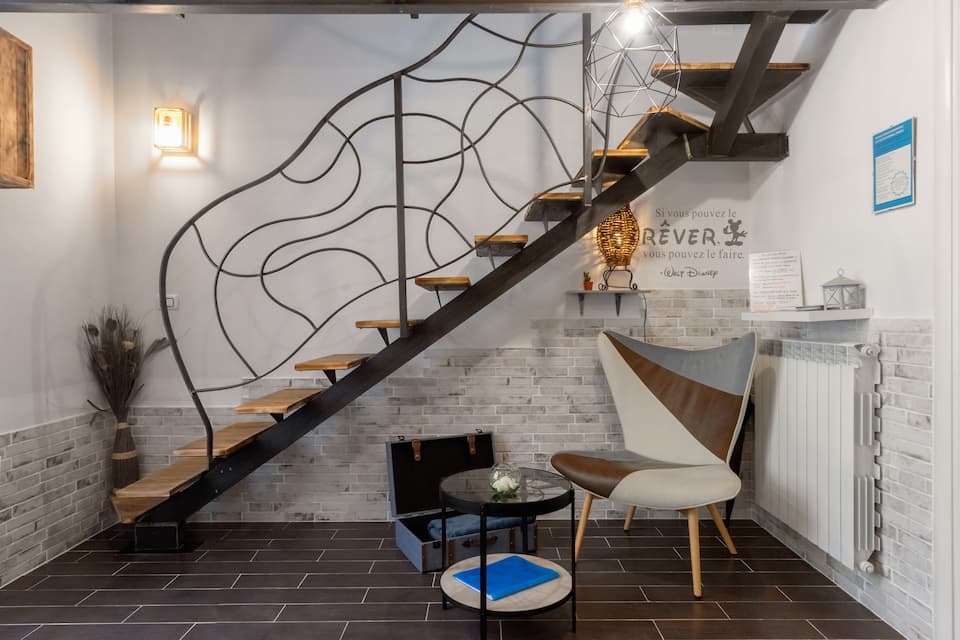 Casa Vacanza Rebecca
Comfortable and located within walking distance of the historic city centre and the port, this entire apartment can be another option if you are looking for places to stay in Brindisi. Cosy and fully equipped, Casa Rebecca can be another alternative place to stay in Puglia! Here you can check the dates and book your stay in Puglia.
Studio Flat in Martina Franca
So far, our stay in Martina Franca has been the best. We picked Martina Franca thanks to its strategic location. This White Town in Puglia is well connected to Ostuni, Locorotondo and Alberobello, but still a hidden gem and less crowded, which also means cheap. 
Small and cosy, we really enjoyed our stay in this studio flat. We had the impression of staying in a little Trullo and I think this was what we liked the most. Here you can check the availability and book your stay in Martina Franca.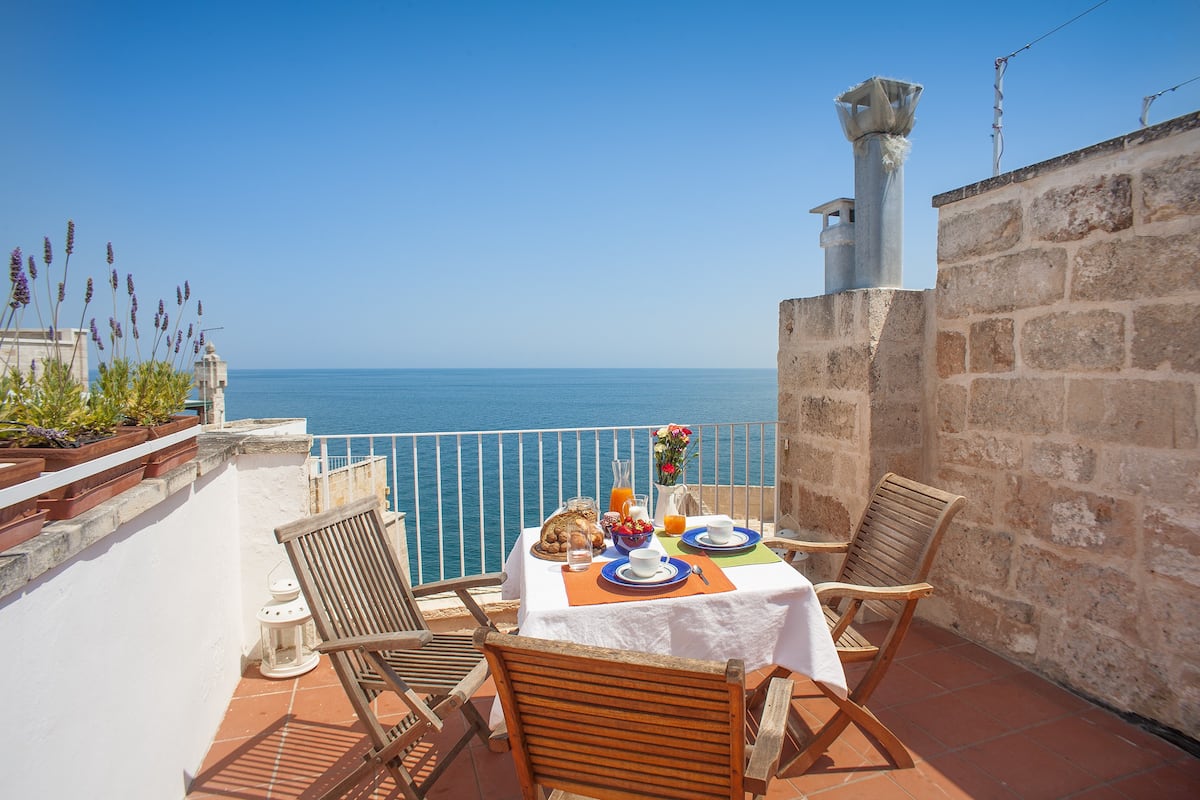 Apartment with a view in Polignano a Mare
If you ask us where to stay in Polignano a Mare, this will be our first choice. This cosy apartment with sea view it's what we loved the most about our one week in Puglia.
Very popular and usually booked, this apartment is the perfect solution if you're looking to enjoy Polignano and the fantastic view of this house.
Terrazza Sul Mare is a sea-view holiday home which is located in the middle of the historical city centre, nearby the famous sea-view balcony. Here, you will have your personal Terrazza to enjoy the beautiful landscape. Check here the availability and book in advance as this place is always full, especially in the summertime.
READ ALSO | Top things to do in Polignano a Mare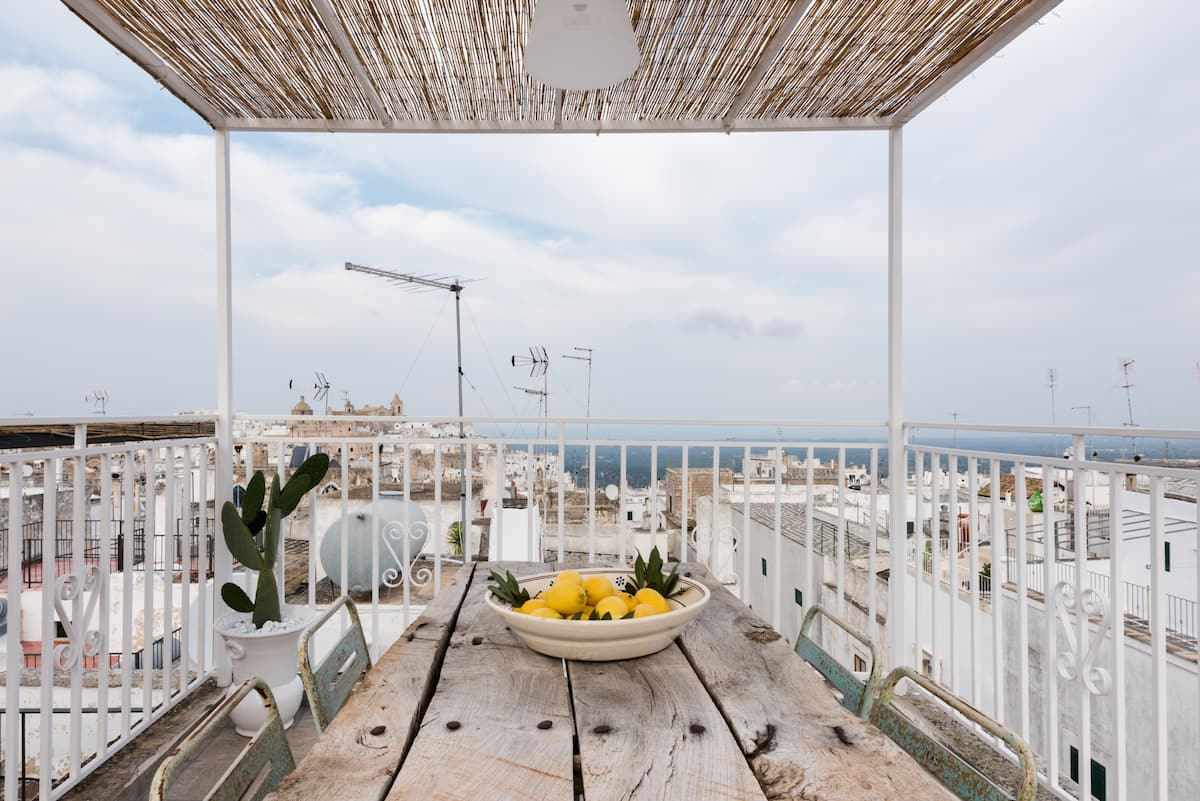 Airbnb stay for a perfect sunrise over Ostuni
When we were looking at all the places where to stay in Puglia Italy, we put on the top of our list all the apartments with a view. Waking up to a gorgeous scenario and having breakfast with a sea view, it was something that everyone should experience while in Puglia. The same happened when we booked our stay in Ostuni.
What we loved the most about this place was waking up for sunrise and enjoying the beautiful colours of the sky, touching the white city of Ostuni. Incredible and magical! 
Located in the heart of Ostuni, this home apartment has everything you might need while in Puglia. Book here your stay and don't miss a fantastic sunrise over Ostuni.
TIPS | During Summer, Puglia becomes more busy than usual, and sometimes the right place doesn't become available. Our friend recommended this palace which is worth taking into consideration. Check the dates here.
READ ALSO | Things to do in Ostuni, Puglia
Best hotels to stay in Puglia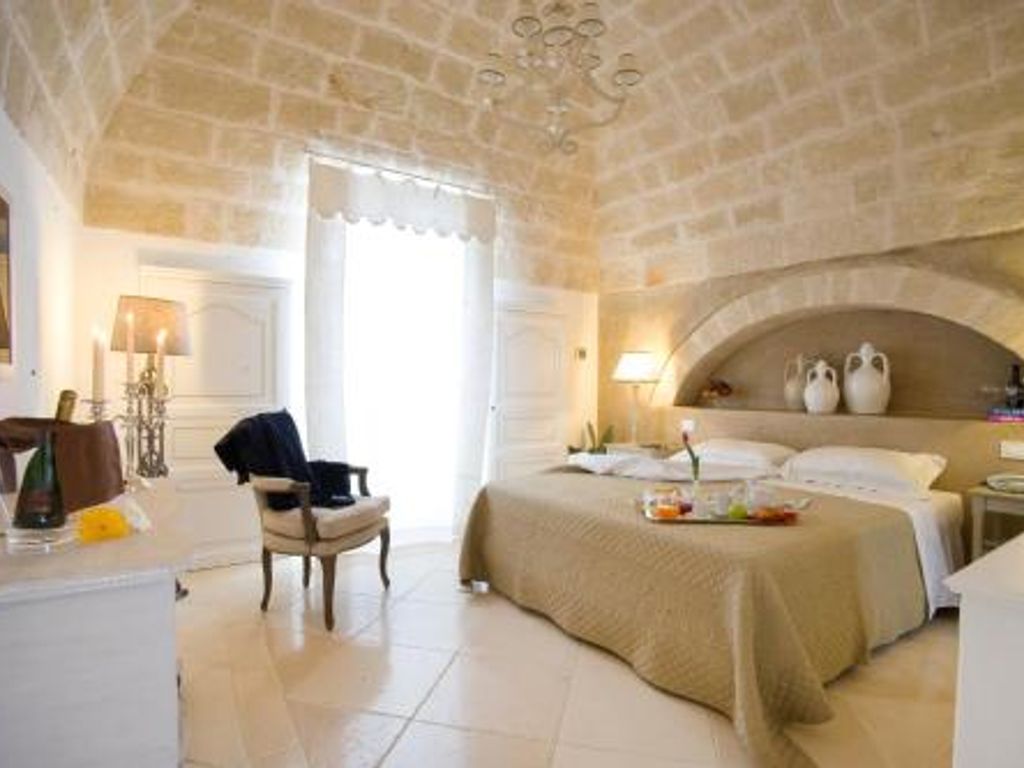 Don Ferrante in Monopoli
For us, Monopoli was a pleasant surprise. We never thought that we would love Monopoli more than Polignano. In fact, the greatest place where to stay in Puglia is for sure Don Ferrante. This hotel was built into the walls of Monopoli and today offers comfort and a bit of luxury. There are different types of rooms where you can choose from, and don't forget to enjoy the small but cute sunbathing area with a pool. Check the dates here and enjoy your stay in Monopoli.
TIPS | For cheaper accommodation in Monopoli, check La Cattedrale here.
READ ALSO | Top things to do in Monopoli
Hotel Grotta Palazzese
You might know Polignano a Mare even for its famous restaurant Grotta Palazzese. For a real and unique experience, you should consider staying at Grotta Palazzese's Hotel. With its premium service and gorgeous amenities, you will love Polignano even more. As it's a very popular place, it usually gets booked, so if you are looking for the best Puglia hotels, check here the dates.
If this accommodation in Puglia is out of your budget, don't worry because we have a second recommendation for you. Covo Dei Saraceni is another option to consider while looking at where to stay in Puglia. Cheaper than Grotta Palazzese, Covo Dei Saraceni will accommodate all your needs while in Polignano. Check the dates here.
Trulli Vacanze in Alberobello
If you are looking for places to stay in Alberobello, on the top of your list should be staying in a Trulli. Those cute, little and cone-shaped houses are one of the top things to do in Alberobello. You will experience the proper Apulian life while staying in a Trullo.
You can't leave Puglia without visiting and staying in Alberobello. If you love the city by day, wait to see how gorgeous it will look during the night.
Don't miss this opportunity and stay in a Trullo House, as we did! Check the availability here.
READ ALSO | Reasons why Puglia is worth visiting
Hotel Monte Sarago in Ostuni
Located within 15 minutes from Piazza Della Libertà, Hotel Monte Sarago offers incredible amenities and gorgeous rooms with a view. You will find everything that you might need during your stay plus you'll be nearby the historic city centre. 
If you were thinking of skipping Ostuni during your one week in Puglia, remember that this cute village is one of the best in the region. We recommend you to book a room with a view and enjoy the beautiful sunrise and sunset. However, sometimes this place it's pricey, if so, visit it and go back to Martina Franca, with more accessible accommodations at a fair distance.
Don't miss this chance and book your next stay in Puglia here.
---
Mercure Villa Romanazzi Carducci Bari
As Bari is the capital of the region Apulia, there are many places you can stay. We picked this gorgeous property as it's located in the city's heart, close to the main train station.
We could easily commute to other destinations from the station, so we picked this hotel. In fact, when checking where to stay in Bari, remember that you can plan amazing day trips from Bari so the hotel accommodation is important.
Located 2 km from Petruzzelli Theatre, which can be seen as the middle point of the beautiful lungomare. The Mercure Villa Romanazzi Carducci will welcome you with all your needs. You can check here the dates.
If you plan to stay longer in Bari, you can check the Excelsior Hotel here.
READ ALSO | Best things to do in Bari, Italy
TRAVEL INSURANCE FOR YOUR STAY IN PUGLIA, ITALY
Don't travel anywhere without travel insurance, no matter your journey. We have learned that at our expense while travelling from Dubrovnik to Hvar, our ferry was cancelled because of rough sea weather.
Even though Puglia is safe, the pandemic taught many people that things might go wrong everywhere in the world, and insurance is frequently the only option to mitigate any problems with the least cost or stress to you.
Hey Mondo | COVID-19 coverage, medical expenses and total travel costs. A fantastic app with 24-hour medical care and no extra charges. You can save 5% on your insurance by booking through our link.
SafetyWing | COVID-19 coverage, comprehensive travel & medical, and insurance can be purchased while travelling for digital nomads.
Q&A about where to stay in Puglia Italy
Which is the best town to stay in Puglia?
Below you will find the best places to stay in Puglia, Italy:
Ostuni
Martina Franca
Otranto
Cisternino
Locorotondo
Bari
Where should I stay in Puglia as a base?
There are so many places where you can stay as a Base, here are our suggestions:
Monopoli
Lecce
Vieste
Bari
Martina Franca
The best experience in Puglia it's to stay in the historic centre, you will enjoy more the local life. However in Alberobello, this part of the city it's the highest demand and prohibitive prices because it is a World Heritage site. Other than that we suggest looking for the Murat area in Bari Town. visiting the hills of the Regions, and looking for where to stay in Puglia as a base, Martina Franca it's the best answer.
How many days do you need in Puglia?
One week in Puglia is enough to go around the region and explore the most important sights. In these 7 days in Puglia, you'll be able to reach the southern part of the region known as the "heel of the boot". If you wish to spend more time around this gorgeous region, you can consider staying up to three weeks.
Is Puglia safe for tourists?
Yes, it is! There are many destinations in the world considered unsafe but Puglia isn't one of them. You will feel completely safe while strolling around the region.
What is the best time to visit Puglia?
The best time to visit Puglia is during spring or early summer/autumn. During summer the weather can reach a high temperature and you won't be able to enjoy much of your trip. We've been in the middle of September and the temperature was still around 30°C.
Where to stay in Puglia for Beaches
Puglia is most known for the amazing beaches.
If you are visiting Puglia in summer, you are probably staying in the southern part of the Region.
We discourage you from staying in Gallipoli.
Puglia in August tends to be crowded by Italians. Look for more hidden spots, and go around by car, go for a spot within 20Km by the coast side. In this way, you will skip the crowds, and enjoy the surrounding area with olive groves and vineyards.
Santa Maria di Leuca it's a beautiful place with amazing beaches. However, check also for the less known "Gargano", which is the area north of Bari, easy to reach by car. This place's ideal for scuba diving with incredible hidden beaches.
There are many hotels that offer Private Beach, Beach club, outdoor pool, rooftop terrace and even a golf course.
What is the most famous food in Puglia?
You will love Puglia's food. Below you have the list of the most famous foods of Puglia:
Orecchiette Pasta
Puccia
Capocollo
Fresh fish 
Focaccia
Meat
Wine
What are the best luxury Hotels in Puglia?
Where to stay in Puglia without a car
If you are planning a road trip in Puglia you can do it even without a car. It might sound crazy but planning it well, you can organise a perfect trip to the southern region of Italy.
We did it, it was fun and so you can as well! Check our week itinerary in Puglia and see how we did it!
If you don't have a car, these are the places where to stay in Puglia: 
Bari
Monopoli
Brindisi
Lecce
Otranto
WHERE TO GO NEXT?
Every time is good to travel and have new experiences. As London-based travel bloggers, it's easy to find cheap flights and explore new places even just at the weekend. Italy is our home country, and we explored most of it, and here are some of our favourite guides. Travel with us, and get some inspiration through the gorgeous Italian landscape. See more in Italy Travel Guide.
SEASIDE AND BEACHES
Best Places to visit in Summer in Italy
20 Incredible beaches on Amalfi Coast
MORE ITINERARIES ABOUT PUGLIA
What to do in Locorotondo
Best things to do in Puglia at Christmas
How to spend winter in Puglia
Things to do in Alberobello
A short guide to Ostuni
Best beaches in Puglia Italy
What to eat in Puglia