Writing about all the best photography spots in Venice is not easy. Every corner of this wonderful city is worth photographing. You will be impressed with how Venice is photogenic and inspiring at every corner and at any time of the day.
We have tried to tidy up a list of all our favourite best photo spots in Venice. Spoiling it, you will start the day with a stunning breakfast with a view in Riva Degli Schiavoni, ending in St. Mark Square for a night photography session in Venice.
We've been in so many beautiful and romantic places like London, Budapest and Paris, but Venice has got its magic atmosphere which left us surprised.
Is it your camera ready? Make sure you got your tripod and camera ready for your next trip to Venice.
Have you ever been to Venice before? If not, you can book your free walking tour here.
Where to find the best photography spots in Venice
As we mentioned before, the entire city is worth photographing, but if you are looking for the best Venice Instagram spots, this is the right place. Venice and its lagoon are a UNESCO World Heritage Site. Be mindful to protect the environment and the area. The city is suffering from over-tourism and needs respect.
Piazza San Marco/St. Mark's Square
Ponte dei Sospiri/Bridge of Sighs
Rialto Bridge
Rialto Fish Market
Cannaregio
Riva degli Schiavoni
Canale Grande
Ponte Chiodo
Acqua Alta Bookshop
Basilica di Santa Maria della Salute
Ponte dell'Accademia
Hidden Pier
Palazzo Contarini del Bovolo
Chiesa della Madonna dell'Orto
Fondaco dei Tedeschi
Save this map for your next trip to Italy, your life walking across the bridges will be easy and you can't get lost.
All the Instagram-worthy spots in Venice, Italy
Piazza San Marco/St. Mark's Square
Venice is famous for the beautiful Piazza San Marco, the welcome to Venice for sailors and visitors. This amazing square is worth inserting in your Instagrammable Venice itinerary. Even if we suggest the place as the first sightseeing to see in Venice, mind to go early in the morning to feel the breeze and enjoy the huge square.
Venice can be a very busy city and if you don't pick the right time and even the right month you won't enjoy much.
In St. Mark's Square, you have the beautiful Basilica di San Marco which is an important religious landmark; moving around this square you'll have Palazzo Ducale, known as Doge's Palace which stands right on the side of the Basilica. It is unmissable, is the white building on the side of the entire square heading toward the lagoon.
If you think that is all, you might be wrong. In Piazza San Marco you still have the beautiful Campanile, the bell tower for the Basilica. Entering the city centre you'll see the beautiful Clock Tower or known as Torre dell' Orologio. It is an astronomical clock, which is following the sailing tradition of this ancient Republic.
This is just to give you an idea on what's around Piazza San Marco and why we think is one of the most Instagrammable places in Venice.
If you want to plan a detailed itinerary of Venice, check our post here.
Ponte dei Sospiri/Bridge of Sighs
There is a narrow but beautiful passage between Doge Palace interrogation room and the Old Prisons. This is today one of the most recognizable and instagrammable places in Venice. 
This bridge, called as it is because it was the last walk for prisoners, in the middle of the passage has got small windows spoiling on a nice view of Venice. The last sighs of the Prisoners transported from the cells to the inquisitor's office. Bridge of Sighs refers to the sighs of condemned prisoners when they were led through it to the execution.
Apart from having significant importance and history behind, today this bridge has become one of the best photography spots in Venice.
TIPS | There are two places where you can get your pictures. The front side while walking on Riva Degli Schiavoni, and another from the back, on the opposite bridge. Taking photos here will challenge your skills in photography. Many people are crossing the bridge and taking photos too. If you are not very skilled, go just below the bridge and try to get awesome shots with the gondolas in the background.
Rialto Bridge
Famous for being the only bridge crossing the Canal Grande in a wide point, Rialto Bridge is another place to add to your Venice Instagram Spots itinerary. Connecting the two sides of San Marco and San Polo, Rialto is today a significant tourist attraction.
As it's a popular Instagram spot in Venice, you should consider visiting very early in the morning. We wanted to take a specific picture with a Gondola in the background so we went around lunchtime. It was a perfect time, and you will not have many people around on that side. Please, bear in mind that the passage is narrow and also slippery, don't try to cross, we have seen many people fall in the lagoon.
If you are looking for the best sunrise photo spots in Venice don't forget to add Rialto in your itinerary. Early in the morning, there are not many people around. If you like street photography it's the right time to enjoy the locals working. Close to Rialto Bridge, there is the Rialto Fish Market, another amazing spot to snap photos of Venice.
Rialto Fish Market
One of our favourite things once discovering the city, is random strolling around the local markets. Rialto Fish Market is the usual trading area. This is the soul of the city, and the ancient heart of Venice and the actual core of local life.
Rialto Fish Market as you can understand is close by the Rialto Bridge, one of the most recognizable sightseeing spots in the city. However, not many tourists know this place which ends up to be the local spot for the afternoon aperitif.
We loved this spot at the end of our lovely tour of Venice with Livitaly Tours. Our amazing guide gave us these tips to enjoy an hour with the leg pending on the canal and the amazing sunset view. Was insanely beautiful, worth not only to be included in our guide of Venice Instagrammable but in all our list of things to do in Venice. Make sure to check this spot before leaving Venice. You can take an Aperol Spritz from a close bar, and carry the glass close to the canal, they allow you. Remember later to bring back the glass.
Visit Samuele at his fish store in the middle of the market for a 20-minute introduction to the Venetian fishing industry.
Venice is well know for the traitional aperol spritz, enjoy the afternoon by the lagoon. Try this tradition in a 1-hour bacaro experience.
Cannaregio
Venice is divided into different districts which all of them are worth exploring more in-depth. One of the most popular areas in Venice is Cannaregio. With its buzzing nightlife and many attractions, today has become one of the best Instagram spots in Venice. There is no particular place where you should stop and take pictures as the entire area is worth photographing.
From the many bridges to the amazing street art and from the delicious street food to the history of the Venetian Ghetto, Cannaregio will be one of your favourite districts to stroll around and take beautiful pictures. Check below Ponte Chiodo and Libreria Acqua Alta, which are in this area.
FANCY AN APERITIVO TOUR WITH A LOCAL?
Riva degli Schiavoni
One of the best places where you can enjoy either sunrise or sunset is along Riva degli Schiavoni. With many gondolas lining the waterside, you will have a perfect postcard from this romantic city as it's one of the most instagrammable places in Venice.
Considered the ideal places to enjoy the view of San Giorgio Maggiore church, Riva degli Schiavoni is today one of the top sightseeing in Venice. We were so lucky to have breakfast here. Waking up in a perfect Italian way, which is "Cappuccino e Cornetto" with a picture-perfect view, is a vivid postcard of Venice in our mind. If you are not fancy for a breakfast with a view, consider to spend the early afternoon for an aperitif in a proper Venetian way, the "Spritz" is perfect and instagrammable.
Grand Canal
Crossing the entire city of Venice, the Grand Canal is another beautiful spot to consider for your Instagram pictures.
One end of the canal spans into the basin at San Marco and the other end leads into the lagoon near Santa Lucia train station. If you are looking at the map you'll see the S shape through the many central districts of Venice.
TIPS | If you want to enjoy the view from the Grand Canal, take a Vaporetto which is public transport on the water and sit at the front. You'll have an amazing view and if you're good enough even plenty of space to take some pictures! You can save money booking in advance for your ticket with Venezia Unica.
Ponte Chiodo
Famous on Instagram, Ponte Chiodo is the only bridge in Venice that doesn't have bannisters.
For us, it was one of the best photo spots in Venice as we could play with our imagination and create different kinds of pictures. Keep in mind that, as it becomes popular on Instagram you might find people strolling around and taking pictures. We suggest you go in the morning to avoid any crowds.
TIPS | Be careful and don't fall down the lagoon as it might not be a pleasant swim!
Acqua Alta Bookshop
After Lello Library in Porto, I never saw another Book shop that would leave me speechless.
I've always heard about Acqua Alta bookshop but I never thought that it would be one of the most beautiful and particular shops that I have ever seen. If you open your Instagram and search for Acqua Alta bookshop, you will see how popular this location is.
We were there at 9 AM, at the opening time, it was super nice having the entire place for us. We had the opportunity to talk with the people working there and explore every single corner of this amazing book shop.
Basilica di Santa Maria Della Salute
Every time we found a new Instagram spot in Venice we remained shocked, wandering around leaving breathless moments vivid in our minds. We're always looking for the right spot to avoid tourist crowds. It is maybe our way to breathe the place more and leave it to penetrate inside our skin. While walking around the streets in Venice we got lost, many times, like always.
This time it was different because a guy approached us and asked if we needed any help. As he saw all our equipment, he told us to go behind the hotel as we would have one of the best views of the Basilica di Santa Maria Della Salute.
He was completely right. We had the entire place for us without anyone around and we could take all the pictures that we wanted.
Why Basilica di Santa Maria Della Salute is important?
This Roman Catholic Church is one of the best known in Venice whose dome is visible from all over the city. Considered one of the most important religious buildings in Venice, the Basilica stands between the Grand Canal and the Giudecca Canal which makes the church visible when entering Piazza San Marco from the water. It's one of the most important sightseeing in Venice and you can't miss visiting.
PRICES | Free for visiting the Basilica | Entrance to the sacristy €4/£3.60/$4.80
Ponte dell'Accademia
Considered the second most popular bridge after Rialto, Ponte dell'Accademia is another best photography spots in Venice. Maybe this is the favourite spot for professional photographers, you can snap the entire curve of the lagoon with the main sightseeing recognizable.
It's the right place if you are looking for a different perspective of the canals and the Basilica di Santa Maria Della Salute. Accademia Bridge links the sestieri of San Marco and Dorsoduro and offers two of the best views in Venice. A unique landscape which you don't want to miss.
TIPS | The best time to visit Accademia Bridge is at sunset, going through the night. Be ready for a long exposure night photography in Venice as this bridge is the right one for it.
We got lost in Venice a couple of times but I must say that every time it was worth it. We enjoyed a lot to get lost, unbelievable, we were almost doing it on purpose. This hidden pier was our second discovery of the day. Ideal for your Venice Instagram spots itinerary, this boat dock is romantic and at the same time perfect for taking pictures.
It's true, it is really hard to find, but following our instructions, you will not get lost. The easiest way to reach this gorgeous spot is to walk to the Calle Largo from San Marco Square and stop in front of the huge Gucci Store. You will see a small alley, make your way through and then turn right at the very end.
The small pier will be on your left. For other references close to the Gucci store there is a pharmacy which is the exact alley you need to take.
LOCATIONS | To reach this hidden pier, this is the exact location.
Palazzo Contarini del Bovolo
Since 2016 you can visit this palazzo and enjoy a beautiful view of Venice. We must say that in our opinion it is not the best view, but anyway Palazzo Contarini del Bovolo is a suggested place because of the architecture, unique and inspiring.
Located in a small street near Campo Manin, between Campo San Bartolo and Campo Santo Stefano, Palazzo Contarini needs to be on your itinerary of the best photo spots in Venice.
With its impressive view of the city, this spot becomes popular on Instagram and you can't miss visiting. From the outside, you will see its external multi-arch spiral staircase which will be perfect for your Instagrammable Venice itinerary.
ENTRANCE | There is a small fee to pay but it's worth the visit! Book your skip-the-line ticket in advance.
Chiesa della Madonna dell'Orto
There is no better way than exploring the hidden gems of Venice. We bet that you didn't find in many guides this gorgeous masterpiece. Keep in mind this path and reach this beautiful church. Walk along the Fondamenta de la Sensa and reach a small bridge where you will have a stunning view of Madonna dell' Orto church. This peaceful and quiet area of Venice is ideal if you are looking for off the beaten path places in Venice. More intimate spots where you will cross the eyes of locals in their daily life. We suggest you wake up early in the morning and enjoy this beautiful scenario.
Fondaco dei Tedeschi
When it comes to free views we are always on the front line. One of the best places to enjoy the view of Venice is T Fondaco dei Tedeschi by DFS. A 360-degree terrace where you will enjoy a great view of the city. Yes, it's free and you can spend up to 15 minutes with your booking. The trick in it is that you can book as many spots as you want. As said it's completely free and so you can't miss it in your itinerary of Venice Instagrammable. We did book the spots at various times of the day, allowing us to enjoy this spot with different lights.
Secure your free spot here and don't forget to enjoy this beautiful terrace during sunset!
Best Venice Tours
Are you ready to make the most of Venice even if you have a couple of days? The perfect way to enjoy your Venice photography itinerary is to start with a free walking tour of the city. Having a local showing you the city for the first time is the ideal way to start your day and get confident with a new place.
Best day trips from Venice
Murano
Famous for its glass marking, Murano is a collection of 7 individual islands all linked together by bridges. You can't leave Venice without paying a visit to Murano and enjoy a glass blowing demonstration.
TOURS | Murano Glass Factory Tour
Burano
Did someone say colourful houses? You are in the right place. With 45 minutes by Vaporetto from Venice, you can enjoy Burano best photo spots. This is the right island if you are looking for a colourful and particular background.
TOURS | Book here a panoramic boat trip to Burano and Murano
Where to stay in Venice | Instagrammable Hotels in Venice
Budget accommodation in Venice
£60 | $80 | €65 per night
Dimora Dogale is the ideal location if you want to enjoy a romantic weekend to Venice. Central and close to the main sightseeing with a good feeling and nice Venetian touch.
Location | Fondamenta dei Preti
£80 | $110 | €95 per night
This is a luxury hotel with a mid-range price. The incredible view over Venice, high standards details and a gorgeous lounge bar will attract you to spend your vacation here.
Location | Fondamenta Zattere al Ponte Lungo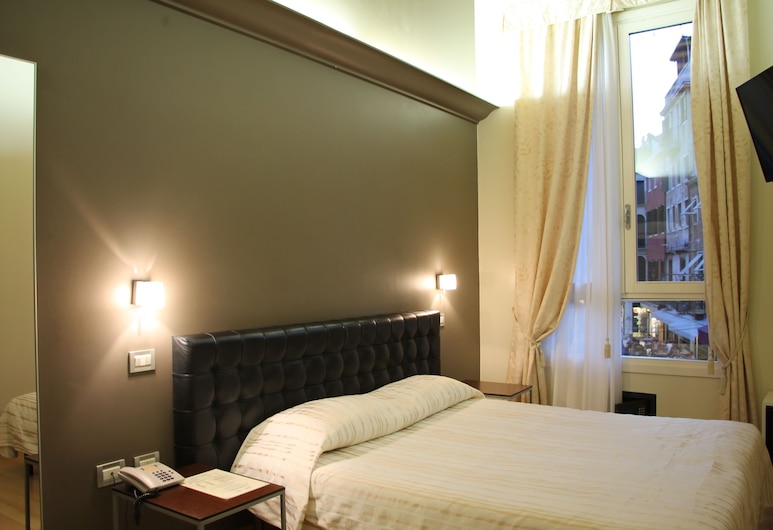 £60 | $100 | €65 per night – Bargain
This is an amazing 3-star hotel near St. Mark's Square. An essential hotel with all you need for an amazing and memorable holiday in Venice on a budget.
Location | Campo Ss. Filippo e Giacomo
Other hotels in Venice you might look for…
Bellini – 4-Star Hotel near the Gran Canal – Average Price: £100 |€ 110 | $130
Ad Place – 4-Star Hotel amazing features near the Fenice Opera House – Average Price: £120 |€ 140 | $160
CHC Continental, BW Premier Collection by Best Western – 4-star hotel with an amazing view over the Gran Canal – Average Price: £80|€ 90 | $100
Hilton Molino Stucky Venice – Luxury Hotel with Spa – Amazing Rooftop Bar – Average Price: £200 | € 225 | $270
Suites alla Maddalena – 4-Star hotel ideal for families with a gorgeous rooftop view – Average Price: £100 | €115 | $130
Are you looking for the best photo spots in Italy? Check our guides
BEST PHOTO SPOTS IN ROME | A detailed guide of Rome's most instagrammable places.
MOST INSTAGRAMMABLE PLACES IN MILAN | The capital of fashion is well known for its famous Instagram spots. Discover the exact places where to take nice pictures in Milan.
AMALFI COAST BEST PHOTO SPOTS | The romantic and amazing Amalfi Coast has got the best and the most famous Instagram spots
FLORENCE INSTAGRAM SPOTS | Florence is beautiful but with our best photo spots itinerary, you will discover the best places where to take pictures
INSTAGRAMMABLE TRENTINO | The beautiful lakes and stunning Dolomites view will make your Trentino itinerary memorable
How to reach Venice
BY BUS – From Venice Airport "Marco Polo" – The airport of Venice is close to the city centre, in just 12 minutes by bus from the arrival side you can reach Venice, Piazza Roma. Take bus number 5. You can buy the ticket at the machine at the bus stop, it will cost € 8.
TO VENICE CITY CENTRE BY SPEED BOAT – There is a more scenic way to reach Venice city centre. Taking a speedboat from the Airport Terminal you can reach Venice in half an hour. You will start your journey in Venice passing by the amazing Burano and Murano.
TAKE A TAXI – There is always a better way to reach Venice and your accommodation. If you want to avoid public transport, you can book in advance for a taxi, which can take you to Piazza Roma. Otherwise, you can go for a more expensive route by boat taxi, which is great for an amazing tour of Venice.
FROM MILAN TO VENICE – There are many options to reach Venice from Milan. The fastest is by Train, check out Italo, which will take you from the main train station of Milan to Venice Mestre in about 2 hours and a half and costs about 40€. The other option is taking a bus with Flixbus. The run is about 4 hours and a half and costs about 20€.
FROM VERONA TO VENICE – As per Milan, also for Verona there are many options to reach Venice. There are about 6 trains per day going through the two cities, it costs about €20. If you want to go to Venice from Verona, you can also take a bus ride, which runs four times a day and costs about €15.
What to know before your trip to Venice
Venice is an unusual city built on a series of islands in the lagoon. To be built on the water was always the strength of this former Republic, one of the first and most powerful in Italy. Venice is a romantic city thanks to its canals and awesome narrow streets.
You can be disoriented continuously crossing bridges from one Sestriere to another. If you are spending more than two days in Venice, you can start to recognize the differences between the boroughs.
Those Sestriere, or districts, have a lot in common, everyone has a square, here called "Campo", a well and a church.
Venice can be really crowded, leaving you embittered for not being able to enjoy the seats as best as possible. Avoid visiting the city during the local carnival, in February, the city is full of locals and tourists dressed up for the party.
While booking an accommodation, you can recognize a tax to visit Venice. This is a Tourist tax to preserve the city. This is important that you know.
---
Q&A Best Venice Photography Spots
---
Best photography spots in Venice?
Ponte dell'Accademia – Riva degli Schiavoni – Acqua Alta Bookshop
What are the Best Places to visit near Venice?
We suggest you think about a visit to Burano and Murano with some incredible day trips from Venice.
What are the best secret things to do in Venice, Italy?
There is no secret about the Aperitif in Venice, but there are variations regarding the drink. You can go for a classic Aperol Spritz or the variation with Campari, which is bitter.
Another thing that you should know is that there is the cheapest way to go for a gondola ride. For a Gondola Ride, you usually spend anything from €80 to €100. Instead for just €2, you can cross the Grand Canal from side to side on board a Gondola. One of the docks is just a few metres away from the Rialto Bridge and is considered public transport. Just get your €2 cash and enjoy.