Valencia is an incredible city, and if you are following our blog posts about Spain, you will understand why we love this country. We have collected 15 incredible reasons why visit Valencia right now. This list will make you book a flight to Valencia right after.
Valencia is the third-largest city in Spain. This is considered more a slow traveller city than just a quick holiday destination. The perfect combination of art, culture, fun nightlife, amazing beach and insane unique festivals all year round. We learned in our visit to Valencia that is the ideal, especially for food lovers. Valencia is the perfect Spanish escape for every season, and now is time for you to understand why visiting Valencia is so needed. This and more on our guide of what to visit in Valencia.
Is Valencia worth visiting?
Yes. Valencia is worth visiting. Undoubtful we can recommend you visit Valencia asap. Plan to spend at least 2 nights in the city. Then you might end up staying longer, like we did. There are some of the most attractive buildings in Spain. It is also one of the best influential cultural hubs of the country and has some of the utmost beaches of the entire southern coast.
---
Check out some incredible reasons to visit Valencia soon!
---
This post may contain affiliate links or Sponsored Links, useful experiences that we love to suggest to you. If you click one of them, we may receive a small commission (for which we are really grateful) at no extra cost to you. Click on it will help us run this website and continue to travel.
Some of the best beaches in Spain
The city of Valencia wasn't developed on the seaside, despite that, it is home to some of the best golden sand beaches of the Southern Coast of Spain. You can reach the beaches of Valencia by public transport for a cheap ticket. On the seacoast, you will find Malvarrosa Beach, a long strip of sand with plenty of space to relax, palm trees and blue water.
If you want to discover more of the neighbouring area there are many other beaches to explore.
Compared to other summer locations in Spain like Malaga or Barcelona on the same coast side, in Valencia, you will find the beaches not always bustling and full of locals and travellers.
So think about Summer in Valencia, if you want to enjoy relaxing without compromise with busy places.
Do you want to know more about Valencia?
---
Unbelievable climate conditions | Sunny almost all year
The Southern Coast of Spain is a ridiculous paradise all year round. Valencia is not less than other cities on the same side, with extremely high temperatures in Summer (we have visited the city in the middle of August and we were sweating visiting the landmarks of the old town.
Valencia in winter is lovely too. During the cold months the temperatures rarely drops below 10°C. This makes Valencia the ideal destination to visit in every season.
Home of the authentic Paella
We are fans of Spain not just because of the amazing sunny beaches, great people and crazy nightlife. We love Spain even more because of the food. We were so excited to visit Valencia and try the famous Paella. The original one is coming from Valencia. And as we always said the same about our homeplace, Naples, if you don't try the pizza in Naples you don't know the real taste. We say the same for Valencia.
Every product is in the Paella coming from Valencia and the surrounding. The special rice that is the main ingredient of this tasty dish, is coming from the area where the local river has been diverted. Most of the restaurants try to make Paella just with local products, almost KM0 from local farmers.
If you want to experience more of the culinary traditions of Valencia, we invite you to take part in a paella cooking class. You will learn the tricks and culture of the best Spanish dish. If you don't have time for a Paella Cooking Class, you can go for the Culinary Tour of Valencia.
Unique language: Valenciano and Spanish
Not everyone knows that Valencia has its own local language. It is coming from Latin and you can hear some similarities with Catalan. Many people believe that the two close languages are the same or similar, but they have a long story in the process to become a language more than a dialect.
Despite that, Spanish is still the first language of Valencia, but you will find many signals, street names and official advertising also in Valenciano. The local language has been restored as the main grammar for a few years, after a long period under the dictatorship that was banning talking in public spaces in Valenciano.
We both speak Spanish, well Alessia does speak it excellently. We didn't find any problem speaking with locals, sometimes trying to speak English instead and in popular tourist locations, it wasn't a problem.
---
Spanish Vocabulary

Those are just a few words in Valencian you might need to know:
Bon dia = Good day
Fins demà = See you tomorrow
Com estàs? = How are you?
Molt bé, i tú? = I'm good, and you?
Com et dius? = What's your name?
El meu nom és… = My name is…
Per favor = Please
Gràcies = Thank you
De res = You're welcome
Understand that the local Siesta is a local lifestyle
This is Alessia's favourite paragraph. We have been living in Spain for nearly 6 months last summer and it was unbelievable how we get used to the local lifestyle pretty quick. Siesta, like eating late for lunch and even more late for dinner was our priority in scheduling the day. Something that we are still missing living back in London now.
By the way, "La Siesta" is the rest in the middle of the day. Mostly all the local activities close around lunchtime, from 2.00 to 4.00 or 5.00 in the afternoon, but this may vary.
La siesta is taken very seriously by locals and is the perfect time of the day for a few hours nap in the afternoon and recharge for the last rush of the day. In summer typically the restaurants in the afternoon open around 8.00 pm.
Despite those few tips from us, in the old town and city centre of Valencia, things change and you will see that many shops are open around lunchtime. If you are hungry and looking for something quick that looks more like a local dish than a typical fast-food, check for 100 Montaditos, our favourite cheap place. IT is open even on Sunday.
The largest green park in Europe
One of the things that we have really appreciated in Valencia is the huge city park. The Turia Gardens is a former riverbed of the Turia river. Today this is the most famous green park in Valencia and is the largest in Europe. It is basically cutting the city in two perfect half, with the new building and a few landmarks on the left side looking at the seaside, and the old town and the old walls on the right side.
The Turia Gardens always offers a bench in the shadow, a few picnics spots, the huge Gulliver playground for kids and more other little ones. There is also baseball, rugby, basketball and football pitches. All around the gardens is running bike paths, we have enjoyed our bike tour of Valencia, getting to discover the hidden gems of the city with a local guide. Book a tour of Valencia on a bike.
The Amazing Architecture is a reason shy visit Valencia
When we visited the city, the original plan was that we will spend 2 days in Valencia. We ended up staying in the city for four days, exploring every corner of it. In one of the mornings when we wake up early to better appreciate the city, without tourists around, we fell in love with the local architecture.
Valencia is unique a mix of many styles blended in one. It is a city that goes from the stunning Valencian Gothic to the Art decò and the ultra-modern structures of the City of Arts and Sciences. Despite all those styles, Valencia also has a high past. Founded by the Romans and developed in the Arabic style by the Moorish.
Despite that, Valencia has a unique way to intend art, that's why it has evolved its own style of gothic architecture. Some people address the local Cathedral as the genuine Holy Grail. We visited this church early in the morning, and it's true that it has some magic. Believe it or not, visit it to check in person.
History and culture how to visit Valencia on a budget
Incredible stories are now legendary iconic pieces of Valencia's Culture. This city is unbelievably beautiful and huge. Everybody knows that Spain, especially the Southern part of the country is pretty cheap and affordable, Valencia has all that you need for an awesome vacation.
You will never be annoyed in Valencia, exploring the city you will discover valuable masterpieces. The Bull Ring just outside the main train station of Valencia is something to admire at every time of the day. We have been walking through the amazing square quite often in our stay in Valencia, due to our Airbnb accommodation being just a few blocks away.
Visit not only the external part of it but also the Bullfighting Museum (Museo Taurino), you will be fascinating even if not really a fan of this cruel show. If you want to go deeper into Valencian history and culture, go roaming inside the Museo de Historia de Valencia, the Historic Museum of Valencia. Check also the Museo de Bellas Artes, the Fine Arts Museum of the city.
Visit the amazing local markets
If Art and Culture are not enough to convince you to visit Valencia asap, the local food markets are the plus ultra. As you know Valencia is the hometown of Paella. The locals think of food as an essential part of life. They will sell you more than just food, experience in the taste and in the traditions.
There are many food markets in Valencia, but we will highlight you just a few but really important. It is true that it is a touristy place, but you will be amazed by the architecture, decorations and amazing food stands. The Central Market of Valencia needs to be the core of your next trip to Valencia. Here you will clearly understand why to visit Valencia. It is a lively food market, full of locals selling products almost KM0.
Don't focus yourself just on food and local products, but admire the Dome and the ceramic fine decorations.
Then you need to head to the Mercato de Colon or locally named as Mercat de Colón. It is the most representative building in Valencian Art Nouveau. It is also one of our favourite instagrammable spots in Valencia.
It is a public market and if you are willing to try a local free walking tour, many of them will take you here to discover the surrounding area.
Famous for the Celebrations, check-in at Las Fallas
If wandering around incredible pieces of art around the city, has not yet convinced yourself about why you have to visit Valencia soon, the way that locals take seriously their cultural celebrations will do.
Las Fallas is one of the most felt celebrations in Valencia. You can't resume Las Fallas as a typical party, parade, carnival. It is much more. The five-day "Las Fallas Festival" will show the best in the city. Hundreds of huge puppets are taking part in a parade around the old town. Las Fallas takes place every year in March and is becoming more popular nowadays.
The festival is actually held for two weeks, and the whole city is transforming in this period. You will find many activities such as fireworks, art galleries indoor and outdoor, and hundreds of parties. It is the best period to visit Valencia. But, book your accommodation in advance it tends to be overcrowded.
It is overall a cheap place, ideal for on a budget travellers
As we said already in the section regarding the culture, Valencia is pretty affordable. We discovered that it is the ideal location for budget travellers. Starting from cheap public transport, with a ticket costing just 1,50€. There are also supermarkets with good offers, check the local Mercadona or SuperSol, there is also the well known Lidl always available.
Talking about food, the local restaurants offer a daily menu on a budget, served at lunchtime or for dinner. If you spot any advertising outside restaurants saying "Menu del Dia" this is the place for you. The overall price is around 10€. Wednesday and Sunday is the day when the local kind of fast food 100 Montaditos offer all the menu, beers included for 1€ each. This place is really cheap every day, offering tapas on a budget.
Coming back to our time in nomadic style, we can think about Valencia as a Nomadic Destination. Even the accommodation in local air BnB offers a wide range of prices and styles.
Valencia is not expensive
Compared to Madrid and Barcelona the cost of living in Valencia is more affordable. This will take in consideration factors like the cost of accommodation, goods and experiences. Valencia is also among the more affordable European countries. It is cheaper to be discovered and living in winter more than Summer when the prices of the accommodation have their pick.
The Crazy nightlife of Valencia – What to visit in Valencia at night
When is the time to talk about the nightlife, everybody should be very focused? Valencia is a big city in Spain, and like Madrid or Barcelona is the top talking about night clubs, discotheques and bars. Valencia really knows how to rock a party. In the city, you can find every kind of genre of music and styles, from the last techno track to the old school underground unknown club.
Looking at what to visit in Valencia at night, the one that we will highlight to you is the party at the Umbracle. The garden terrace up the deck of the Ciudad de la Ciencia y Artes of Valencia is an unmissable nightlife spot for you.
The Mya Club is one of the most trendy clubs in Valencia, holding some of the coolest parties in the whole coast.
If you are on the seaside of the city, during summer it will give you many reasons why visit Valencia. Most of the clubs on the beach offer sunset aperitif and crazy nights. Also, the hotels and bars rooftop terraces parties with the sea as landscape.
The best concerts at Palau de la Musica Valenciana
The Valencia Concert Hall is an awesome building that you can't miss walking through the old river bed of the Turia, the actual green garden of the city. Just outside of the futuristic building that has also inspired the structures of de la Ciudad de la Ciencia y Artes, a big fountain that has been designed to spout to the beat of the music that you can hear from Palau. Yes, from outside, just comfy sitting in the garden you can listen to the concert inside the building and watch an amazing water game.
The Palau de la Musica Valenciana is an identity institution for locals. It promotes the culture and hosts concerts, operas, ballets and other cultural activities, over than also conferences and presentations.
During summer, outside of the building and close to the fountain is held an open-air cinema. It is really cheap. If you are looking to improve your Spanish will be a fun exercise. The Cinema in the Turia Garden also hosts movies in English and other foreigners languages.
Bike-friendly city tour of Valencia
We have been discovering Valencia on a bike with Baja Bike. It was fun thanks to our amazing guide. That's why we will suggest you plan a bike-friendly city tour.
Valencia is perfect to explore by bike, it's a flat city so suitable for everybody. The Turia Garden has a bike track all the way, also in the city centre, there are dedicated lanes to the two wheels.
Find your accommodation in the Old Town
We are advertising you Valencia a lot, not because we have been paid for the promotion but really liked the city. We have stayed in Valencia more than we expected and so changed two Airbnb in our stay. Despite the common sense that will say to you that, to find accommodation by the sea, due to Valencia is a coastal city. Instead, if you are not just propelled to chase the sun, book your accommodation in Valencia in the old town. In this way, you will discover better the cultural part of Valencia.
The coastal side of Valencia is full of hotels, condo villas and cheap apartments. In the old town, you will instead find the well-known hotel boutiques, but also Airbnb on a budget close to the main landmarks like we did.
The city centre of Valencia is also full of Hostels, amazing to spend a few nights in contact with the Valencian Culture.
Where to stay in Valencia
Those are some suggestions for you to check into, divided by the borough of the city.
Local areas: Poblats Marítims or Poblados Marítimos. The marine district of Valencia, full of locals, escaping from the crazy old town.
The best area where to stay in Valencia: The Old town as we said above. It is recognized as Ciutat Vella in the local language.
Amazing amenities: Ruzafa is where our first Airbnb in the city was located, full of restaurants, bars open until late. Extramurs, instead is a local suggestion you have to check out.
New area: Quatre Carreres. It is the new area of Valencia, suggestive and in contrast with the old Valencia, but perfectly mixed. It is close to the Ciudad de las Artes, in a middle way from the seaside.
What to visit in Valencia
The below is the list of the landmarks of Valencia you don't have to miss at all.
When to visit Valencia
Valencia is overall a city to experience all year. Thanks to the particular climate conditions are ideal in Spring more than summer and worth a visit in autumn and in winter too. Despite that said, the ideal season to spend a few days in Valencia is in Spring, until early summer.
The climate at this time of the year is above 20 degrees, that makes you feel warm but not sweating like in the summertime. The temperatures in winter in Valencia, never drop below 10 degrees, with the minimum temperatures in January and February. In those two months, I concentrated on all the rainfalls.
The Mediterranean climate will suggest visiting Valencia also in summer from July to September expect crowded places, especially through the beachside.
For a less crowded winter sun holiday in Valencia, try to book your vacation period across October, that is still a beach time in Southern Spain.
Free

tours in Valencia
Some of the best FREE TOURS in Valencia you should book before your trip starts!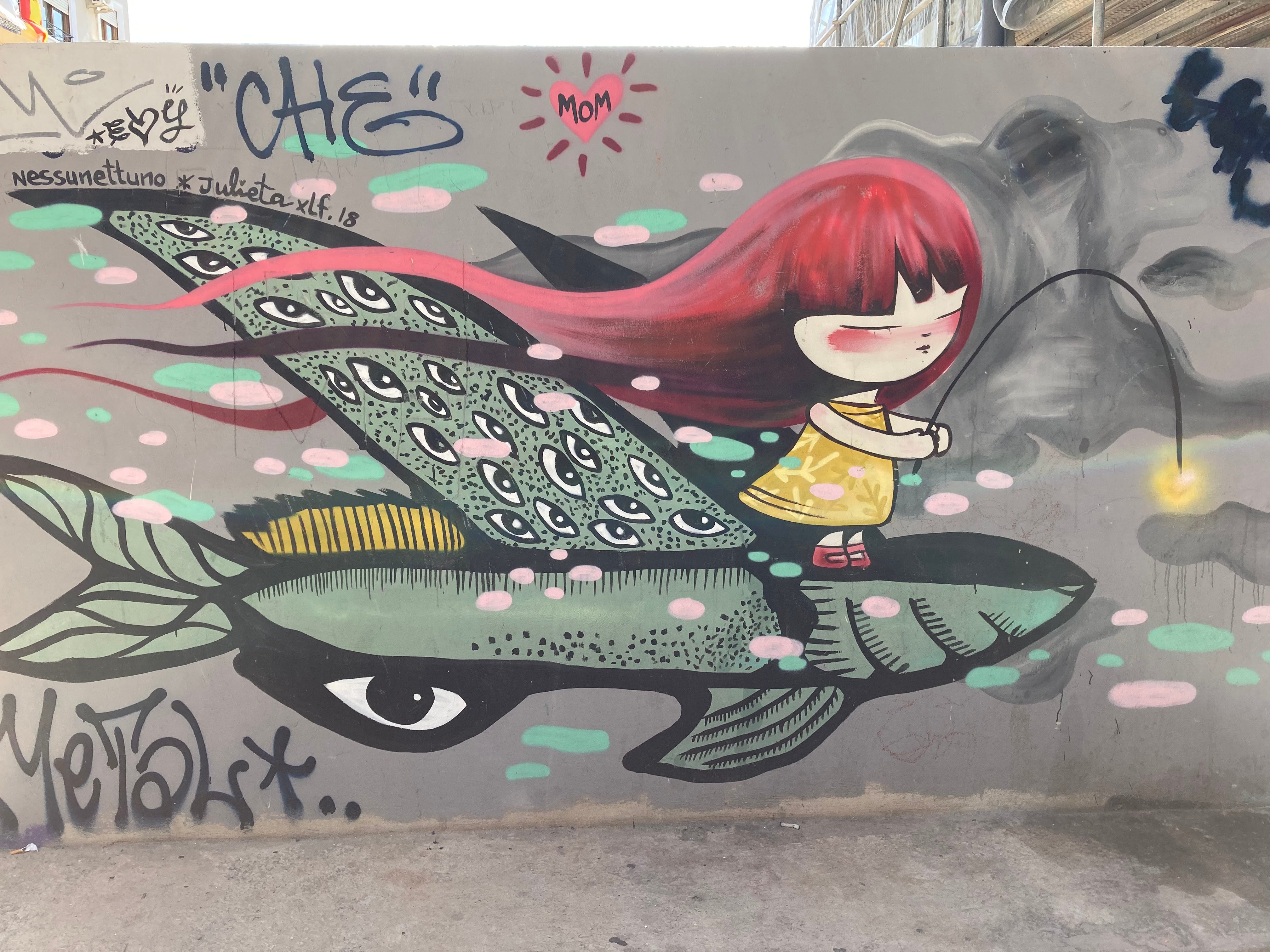 Discover a new side of
Valencia
: El Carmen District
9.7/10 – 191 Reviews
Tours to do in Valencia
Valencia Fallas Tour
The Oceanographic
Valencia Street Art Free Walking Tour
Guided Tour of Valencia and Silk Exchange
Medieval Valencia Tour
Valencia Segway Tour
Valencia Stadium Guided Tour
Tapas Tour in Valencia
City Bike Tour
How to reach the city centre of Valencia from the Airport
There is just one airport in Valencia, it makes it easy to avoid mistakes for travellers. Most of the low fare European companies serve Valencia from everywhere in the Continent. The distance between the city centre and the airport is just 8 km, that makes the link between the international hub and the town quick like no others.
You have many options to reach the city centre of Valencia from the Airport.
Metro: The ride will take around 20 minutes. You can take the Metro lines 3 and 5 for about 3.90€. The transport by Metro is included when you purchase your Valencia Tourist Card in advance.
Bus: You can also reach the city centre of Valencia by bus. It will take longer than the metro, but is cheaper. There are buses leaving the airport toward Valencia every 15 minutes. It will cost you only €1.50 per person, and the ticket can be purchased on board. Taking the bus will take more time, but instead will start to give you a quick tour of the city in advance.
Taxi: Private transport in Valencia is pretty cheap. We have been experiencing good fares booking in advance taxi ride, that has saved us time and money. We suggest checking in advance for your taxi ride and avoid surprises at the airport. Check this if you want a private transport.
How to stroll around Valencia
When we are visiting a place for the first time we love to get lost in the narrow streets. It is something that makes us breathe like locals and feels fewer tourists. More than that we love to be organized. More than one time ended up that we were regretting to have skipped some landmarks because of time or queue.
To avoid this kind of feeling in every post we suggest you book your tours of Valencia in advance it will save you time and money and organize well your plan. Also, check for a Valencia Tourist Cards, if you see an unexpected landmark that takes your attention, you can save time on your schedule skipping the queue.
The excellent public transport system of Valencia consists of metro (That is connected to the airport as well), bus and a tram line that is going just in a part of Valencia.
The cheapest cost makes it easy to be discovered, but the city is big and you have to take transport more than once. This is the official website of EMT, the Transport of Valencia.
You can also discover Valencia on two wheels, with the public bikes. Check this out.
CONSIDER TO BUY A VALENCIA TOURIST CARD IN ADVANCE
As we suggested before, planning in advance your trip will avoid bad surprises. Buying a Valencia Tourist Card in advance will help you save money starting from when you land. With that card, you can take the metro included in the service.
You can combine all your transports with just one card. The card is also offering free entrance to public museums and gets you an overall discount of 25% on tours and restaurants. Check prices and buy your card here.
Ibiza nightlife is just half an hour flight away
If you are on a Spanish Tour, why not organize a crazy day trip from Valencia to Ibiza. The nightlife well known Island in the Mediterranean is just half an hour away from Valencia taking a flight. The low-cost company Ryanair runs an excellent service that links the two places.
If you book a few days in Valencia before your sunny holidays in Ibiza it will cut down by 50% your average costs of transport, adding a beautiful city to your map.
Ibiza could be a good escape for an extravagant weekend party. A little break from the routine just with a half an hour flight.
Is Valencia, Spain Safe?
In our experience Valencia is safe. We have never felt in danger even walking at night in a district away from the city centre. Generally, Valencia is a very safe city. But like every big city, we always suggest not carrying with you valuable, and watch out for cameras and bags especially in crowded places.
Which are the best beaches in Valencia?
Valencia is a double faces city, an excellent cultural hub, with a crazy seaside full of beautiful beaches. Those are some to discover, especially if you are visiting Valencia in Summer.
Las Arenas Beach
Playa la Malvarrosa
Patacona Beach
Playa la Garrofera
Why is worth visiting Valencia?
Valencia is reminding us of an amazing time back in summer. It was at the same time a relaxing place where you could drink a beer chasing the sun, and discover the old town. Valencia is definitely worth a visit. If you can allocate more than 2 days in Valencia it will be perfect.
The city is so big that 2 days are not enough to grasp the skin of the Valencian Culture. If you are a passionate photographer like us, you will discover some of the most instagrammable places in Valencia, collecting amazing memories back home.
You are right to the end, so if you like this post you might also like:
The most instagrammable places in Valencia
Unusual things to do in Malaga, Costa del Sol
Photos that will make you do a road trip of Andalusia